"well, the leaders of the free world
are just little boys throwing stones"
i finished the final season of merlin a few days ago. how did i feel?
lol i cried like a mofo, which is funny really, because I ALREADY KNOW THE ENDING. silly silly anis. don't get me wrong, even though i love arthur and wish that he didn't die, my heart went way, way out to merlin because:
a) he lost his best friend,
b) after trying so hard to protect arthur he fails to do so,
c) he finally reveals his true powers only to have arthur die. in. his. hands, and
d) after all that time, he's still waiting for arthur? *starts weeping softly*
gahhhh, so many feels. all in all, even though the ending makes me want to punch someone in the face, i would definitely recommend everyone to watch it! it's funny, it's got magic and adventure, it's got loads of hot guys in it, and the acting is fantastic. (i'm not saying the ending is bad. i'm just saying that it's sad. i hate it when characters get sad endings. i'm bollywood like that. if i had my way all the characters in the movies or series that i love get a happy ending plus a free subscription to reader's digest for life. FOR LIFE.)
by the way, who can ever forget merlin and arthur's brotherly love? not me that's fo'sho.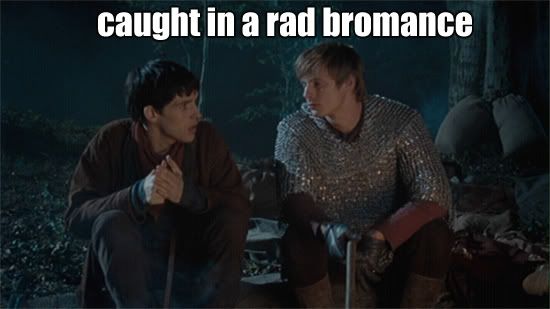 i mean, come on. even bradley james thinks that arthur's friendship with merlin is stronger than his relationship with guinevere. that's gotta say something.
don't mind me, just filling up the needed bromance quota while sherlock season 3 is underway.
because friendship is magic.
i've also been obsessed with elbow as of late. not my elbow. elbow the band. they are fantastic.
biggest elbow i've ever seen.
in my eyes they are kind of like a british version of switchfoot but darker. great lyrics, catchy beats, and guy garvey's voice is dark and mysterious and comforting and soothing all at the same time. some of my favourites are the night will always win, open arms and leaders of the free world. oh, and grounds for divorce, of course.
the current soundtrack to my life is one day like this (which i've put on my blog, of course) because it's so uplifting. i mean, how can you not be happy when you listen to the lyrics? as someone who's been feeling pretty shit for the past few years i can tell you that happiness isn't something you can ever take for granted. if you can find happiness and strength from a song, or a poem, or even a smile, then i say go for it. life's too short to feel so sad.
plus, this is the first song i've ever heard that uses the word cow in the lyrics and pulls it off beautifully. (the only other song i've ever heard that mentions a cow is the theme song for cow and chicken. heh)